At the Town Hall in Oradour
When the procession reaches the Town Hall (Hotel de Ville), the standard bearers remain on the road outside whilst the dignitaries and other invited guests go in for a brief reception. The number of people attending as spectators varies with both the weather (wet on 10 June 2012) and the significance of the anniversary. Compare this view of the 68th with the one for the 65th anniversary in 2009, when it was much better attended. Generally the anniversary is a fairly low-key event, although well supported by local groups and ex-resistance members and their representatives.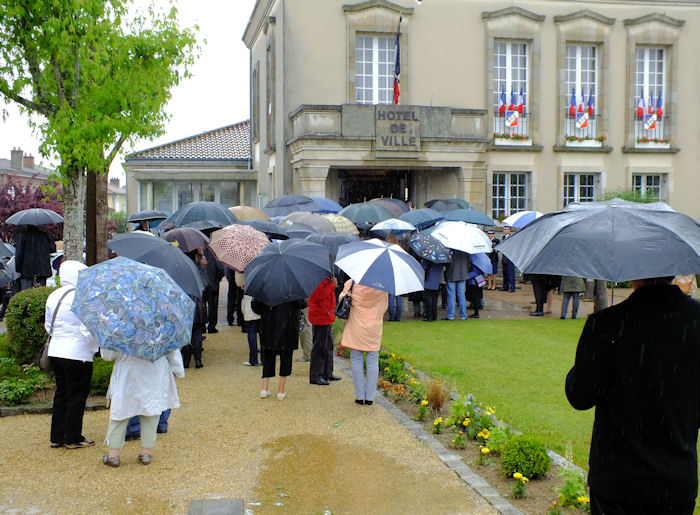 As an example of the timing of events for the commemoration of the massacre, here is the program for the 68th anniversary, held on Sunday June 10th 2012.
14:00 ... Mass in the Catholic new church of Oradour-sur-Glane
15:00 ... Reception of the personalities and other participants in the Town Hall
15:15 ... The procession leaves the Town Hall
15:30 ... Laying of the wreaths at the monument for the children at the school
15:45 ... Laying of the wreaths at the monument for the dead of both World Wars
16:15 ... Laying of the wreaths in the old church of Oradour-sur-Glane
16:25 ... A minutes silence held on the fairground of the old village of Oradour-sur-Glane
16:35 ... Laying of the wreaths at the memorial to the dead of Oradour in the cemetery
17:00 ... End of the ceremony
© Michael Williams: July 2012