Tribute at the school memorial in Oradour
The memorial in this view normally is unadorned, the French flag and the two groups of smaller flags have been added specially for the 68th anniversary. To the right rear can be seen the modern school complex of Oradour-sur-Glane new village. The new village was built and first inhabited in 1958, some of the first occupants being those who had lost family in the massacre, such as Madam Rouffanche. See the Village Plan for location details.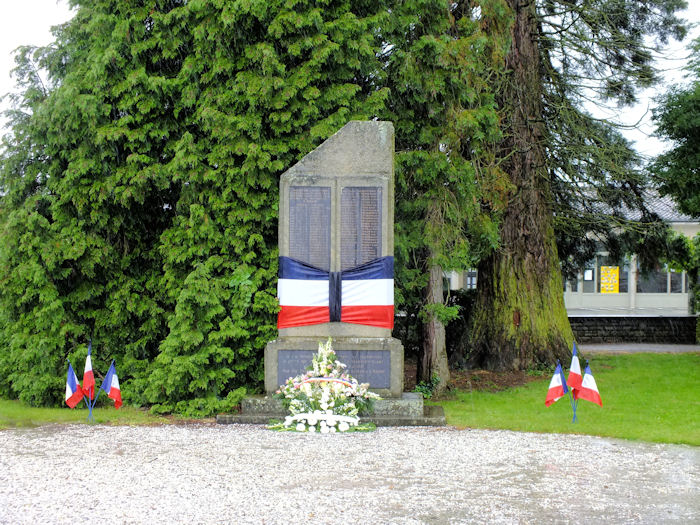 As an example of the timing of events for the commemoration of the massacre, here is the program for the 68th anniversary, held on Sunday June 10th 2012.
14:00 ... Mass in the Catholic new church of Oradour-sur-Glane
15:00 ... Reception of the personalities and other participants in the Town Hall
15:15 ... The procession leaves the Town Hall
15:30 ... Laying of the wreaths at the monument for the children at the school
15:45 ... Laying of the wreaths at the monument for the dead of both World Wars
16:15 ... Laying of the wreaths in the old church of Oradour-sur-Glane
16:25 ... A minutes silence held on the fairground of the old village of Oradour-sur-Glane
16:35 ... Laying of the wreaths at the memorial to the dead of Oradour in the cemetery
17:00 ... End of the ceremony
© Michael Williams: July 2012