The main memorial in the cemetery at Oradour during laying of the tributes
During the laying of the tributes / wreaths at the main memorial in Oradour-sur-Glane's cemetery, the standard bearers representing the local, regional and national bodies stand in a hollow square formation facing the laying area. The laying of the wreaths is done without music (apart from the National Anthem), but each one is announced over a public address system, with the name of the donating body and the name of the persons laying the tribute. It is difficult to take a representative picture of this part of the ceremony, due to the large numbers of people crammed into a small area, so the view below is shows just a small part of the whole event.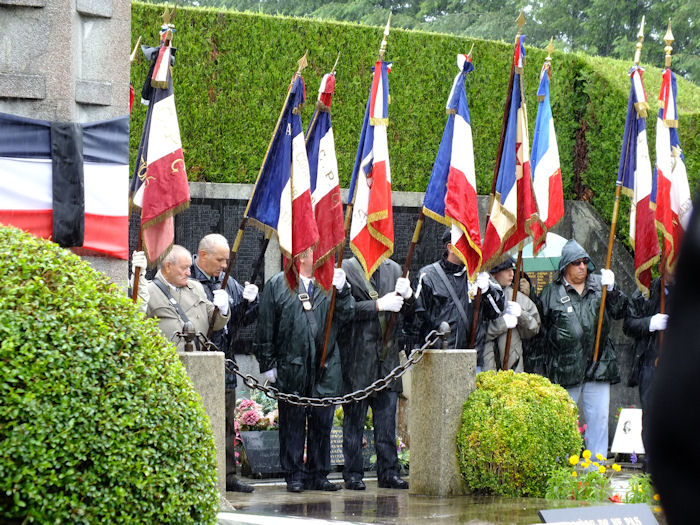 As an example of the timing of events for the commemoration of the massacre, here is the program for the 68th anniversary, held on Sunday June 10th 2012.
14:00 ... Mass in the Catholic new church of Oradour-sur-Glane
15:00 ... Reception of the personalities and other participants in the Town Hall
15:15 ... The procession leaves the Town Hall
15:30 ... Laying of the wreaths at the monument for the children at the school
15:45 ... Laying of the wreaths at the monument for the dead of both World Wars
16:15 ... Laying of the wreaths in the old church of Oradour-sur-Glane
16:25 ... A minutes silence held on the fairground of the old village of Oradour-sur-Glane
16:35 ... Laying of the wreaths at the memorial to the dead of Oradour in the cemetery
17:00 ... End of the ceremony
© Michael Williams: July 2012