The Junkerschule Bad Tölz Germany in June 2004
As can be seen by comparing these pictures with those of 1940, there has been a considerable increase in vegetation, so much so that it is now impossible from the ground to take a view showing the whole of the front of the building. The picture below on the left has been taken from the minor road to Munich, the one on the right below, shows the left entrance turret and one can still see the windows and entrance door under where the archway once spanned the gap to the other turret. The bottom picture has been taken from within the courtyard / parade ground and is looking north.
The banner across the entrance reads, "Flint Center" (the school was known after the war as the, Flint Kasserne, or in English, Flint Barracks). The whole complex is now being turned into a commercial centre and houses many small businesses from bakers to solicitors, even the parade ground is being built upon. Many of the people who now work here have little, or no idea of its past, or the events which the school helped shape.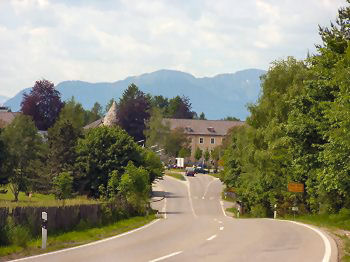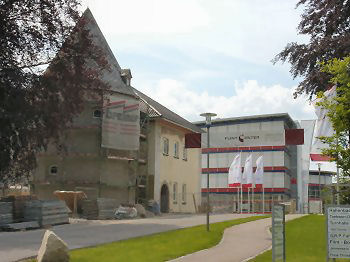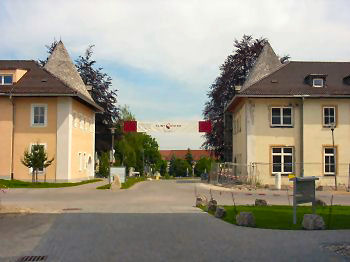 © Michael Williams July 2004