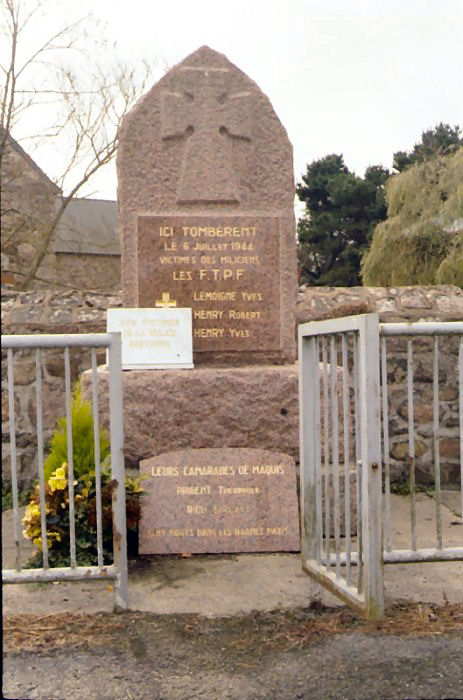 This memorial is located near La Roche-Jago off the D787 on Brittany's 'granite coast'. It forms a testimony to the fact that French people were killing French people without any German assistance as late as June 1944 (and later still in some parts of the country). Although not directly connected to events at Oradour-sur-Glane, this memorial illustrates the state of virtual civil war that existed in France during the war years. It gives the lie to the myth that all of France was united behind the Resistance and their opposition to the Third Reich.
1) The main inscription reads, "Here fell on the 6th of June 1944, the FTPF victims of the Milice (the 6th of June was D-Day, the allied invasion of France).
Yves Lemoigne, Robert Henry, Yves Henry" see: Notes on Language and terms used for details of the FTPF.
2) The lower inscription reads, "Their friends Theophile Prigent, Edguast Riou died in the Nazi camps"
3) The small white plaque reads, "To victims of the Breton Milice"
---
© Michael Williams: revised February 2004