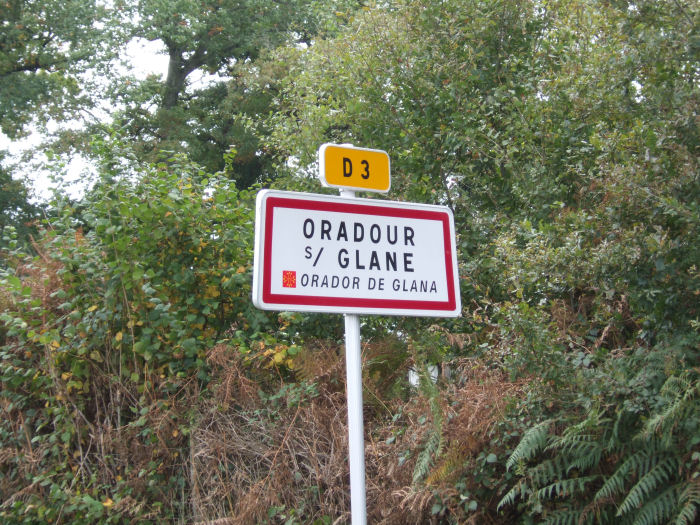 This sign is on the west side of the new village of Oradour-sur-Glane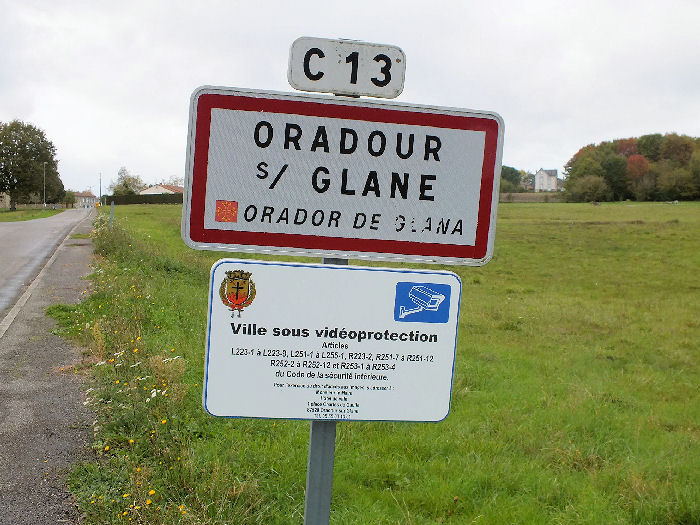 The cemetery is just behind the photographer and the ruins are to the left of view.
This view shows the road signs for Oradour-sur-Glane on the D3, approaching the village from the west and on the C13 adjacent to the cemetery. It shows both the normal French (Oradour-sur-Glane) and the Occitan spelling of the name (Orador-de-Glana). Occitan was one of the languages used in the south of France during the middle-ages and it is currently enjoying something of a renaissance throughout the Languedoc (Language of the Oc), "Oc" is the Occitan word for "Yes" and Oradour is near the northern limit of its use. These are modern signs and previous versions would have been in French only, see How to get there and places to stay for more local information.
It is rather sad to see the addition of the notice on the C13 sign pointing out that the town now has video supervision. It seems that in 2017 (the video sign appeared between autumn 2016 and 2017), even national war memorial sites were not fully respected as was shown by the graffito attack in August 2020 and the defacement of the Godfrin memorial at Charly-Oradour.
---
© Michael Williams February 2008, revised February 2018