Robert Hébras at the main memorial in Oradour after the tributes had been laid
Robert Hébras (the man with white hair, wearing a white shirt, blue tie and spectacles in the centre of the photograph) greeting each of the standard bearers after the laying of the tributes / wreaths at the main memorial in Oradour-sur-Glane on 10th June 2012 (the 68th anniversary of the massacre). There are just two men alive today in 2012 from those who escaped from the Laudy barn in 1944, Robert Hébras and Marcel Darthout (who did not attend due to ill health on this occasion).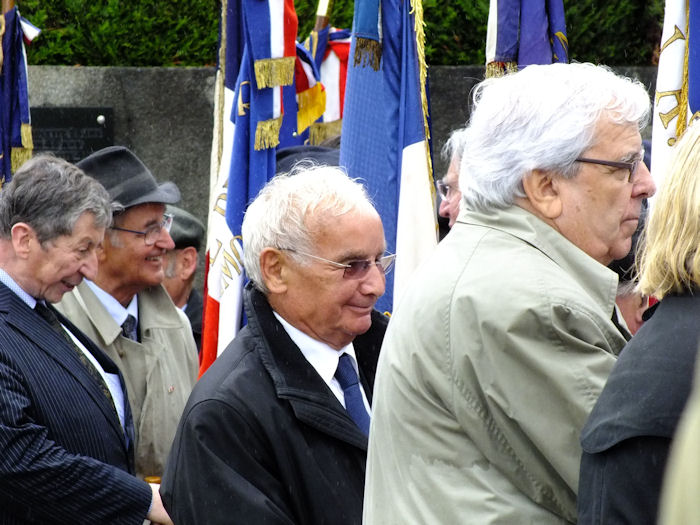 As an example of the timing of events for the commemoration of the massacre, here is the program for the 68th anniversary, held on Sunday June 10th 2012.
14:00 ... Mass in the Catholic new church of Oradour-sur-Glane
15:00 ... Reception of the personalities and other participants in the Town Hall
15:15 ... The procession leaves the Town Hall
15:30 ... Laying of the wreaths at the monument for the children at the school
15:45 ... Laying of the wreaths at the monument for the dead of both World Wars
16:15 ... Laying of the wreaths in the old church of Oradour-sur-Glane
16:25 ... A minutes silence held on the fairground of the old village of Oradour-sur-Glane
16:35 ... Laying of the wreaths at the memorial to the dead of Oradour in the cemetery
17:00 ... End of the ceremony
© Michael Williams: July 2012