View of poster inside Centre showing, "Dickmann" as leader of the SS
This view was taken inside the Centre de la Mémoire at Oradour in May 1999, just after it first opened. The original rather poor quality picture was updated in November 2002 and it shows exactly the same information as the earlier one (at the time, there was no restriction on photography inside this section).
Entrance to the Centre is free and inside there is a display area, shop, information desk and a passageway to the ruins. However if you pay a fee per person, you can enter an audio-visual display area, which includes a short video film in French with a handset that gives an English translation. The poster shown below is in this fee-paying area. The quality of the picture is not very good due to the autofocus on the camera used not setting the distance correctly, but it is possible to make out that the name of the leader of the First Battalion is quoted as being, "Commandant SS Dickmann". "Commandant" is the French army equivalent of Major, which in turn is the equivalent of Sturmbannführer in the SS, but Dickmann is incorrect. Both Dickmann and Diekmann are valid German surnames but in this case the correct spelling is, Diekmann not Dickmann, a mistake that the Centre seems reluctant to acknowledge or do anything about correcting. Another smaller point is that whilst Commandant is a genuine French army rank, Sturmbannführer was the correct SS rank and not Commandant, or Commander, or Kommandant as shown below.
See also the memorial at Rouffilliac which shows the same misspelling of Diekmann's name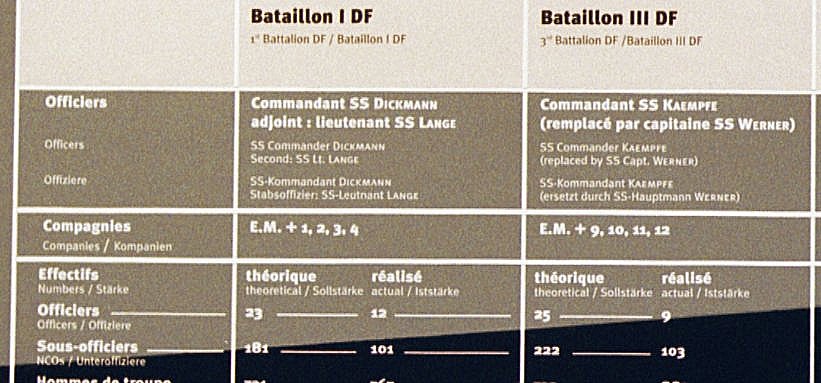 © Michael Williams: revised February 2004