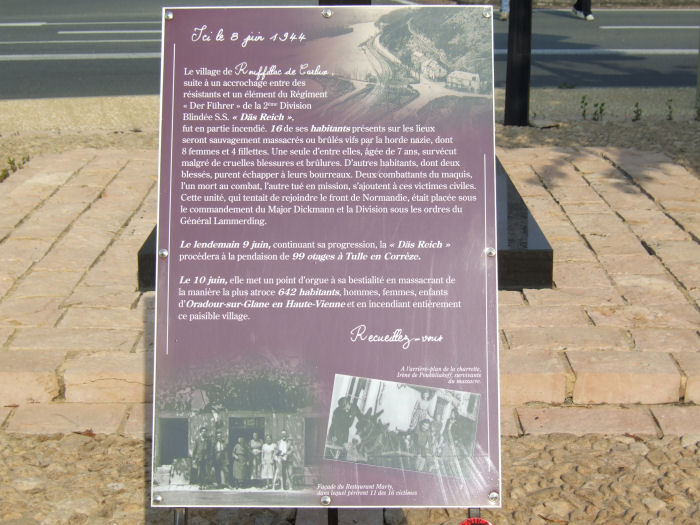 The memorial plaque at Rouffillac shown below gives an account of the events of June 1944. It is located just to the side of the main memorial, the black base of which can be seen behind. It is noteworthy that the name of "Dickmann" is yet again mentioned instead of "Diekmann". This is most odd and it almost seems that there is a deliberate attempt to mislead the uninformed reader as to the true identity of the man concerned; why this is I cannot imagine. See also the information in the Centre de la Mémoire in Oradour-sur-Glane which gives the same misspelling for Diekmann's name. My translation of the plaque is shown below ..............
"Here on the 8th June 1944 ...
The village of Rouffillac was in part burned following an engagement between the resistance and an element of the Der Führer Regiment of the 2nd SS Panzer Division Das Reich. 16 of its inhabitants who were present were savagely slaughtered and burnt by the Nazi horde, including 8 women and 4 little girls. One alone among them, aged 7 years, survived in spite of cruel injuries and burns. The other inhabitants, two of whom were injured, escape their executioners. Two fighters of the maquis who were killed in the fight and another who was killed in action, are to be added to these civil victims. This unit, that attempted to join the invasion front at Normandy, was placed under the command of Major Dickmann (sic) and the Division was under the orders of General Lammerding.

The following day 9 June, continuing its progression, Das Reich proceeded to hang 99 hostages at Tulle in the Corrèze.

June 10, it reached the pinnacle of its bestiality by slaughtering in the most atrocious manner 642 inhabitants, men, women, children, of Oradour-sur-Glane and entirely burning this quiet village ...
Remember!"
---
© Michael Williams: November 2008